Mission and values
"Kompetencja" Sp. z o.o. is a company of accounting specialists-practitioners providing high quality financial, accounting and advisory services for the benefit of clients and in accordance with the public interest and professional ethics. We are always committed to our clients and we strive to ensure an optimal balance between efficiency and safety of their operations.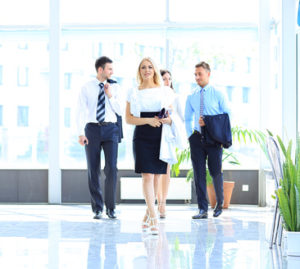 "Kompetencja Sp. z o. o." was established in 2003 on the basis of the experience of current members of the Management Board who, since 1994, have conducted business of the same profile in the form of business activities of natural persons.
Since then, the company has grown significantly, moving in 2014 to a new, larger headquarters in the centre of Warsaw. Since 2012, it has supplemented its services with a component of business and legal advisory. Currently, Kompetencja Sp. z o.o. and Eunite Poland Sp. z o.o. form the Kompetencja Group, which provides a full range of business services.
In 2016, we became a member of the Netherlands-Polish Chamber of Commerce, which reflected the structure of the companies serviced - in a large part of foreign investors, 50% of them from the Netherlands. In total, the group provides services to over 100 entities, apart from Dutch companies, these are Polish, Italian, Belgian, Swiss, German, Scandinavian and American companies. We provide services to companies belonging to large international capital groups whose parent companies are listed on the stock exchanges all over the world, independent medium-sized companies, as well as family microenterprises and natural persons conducting business activity.
Our oldest clients have been cooperating with us since the early 1990s.
We ensure full confidentiality of data within the scope of all services provided by us, lawful performance of obligations within the scope in which we act as data administrator or data processor. The whole group has implemented and applies the solutions required by the RODO (EU Data Protection Regulation).
As an entity authorised to audit financial statements (entry number in the National Chamber of Statutory Auditors: 3237) and to provide financial and accounting services for companies, the Company is insured against civil liability related to individual types of our business activity.
Our advantage is the ability to provide full financial and accounting services in English and Italian, as well as many years of experience in servicing entities with foreign capital, belonging to capital groups.
Management Board and representation
Agnieszka Ostaszewicz
President of the Management Board
Statutory Auditor since 2000 (number of licenses on the list of statutory auditors 9555), CIMA Certificate since November 2010. Between 2000-2007 Director for International Cooperation of the Accountants Association in Poland. In 1999-2007, she translated and verified the official Polish edition of International Financial Reporting Standards and International Standards on Auditing, and co-authored the Standard of Valuers "Valuation for the purpose of financial statements within the meaning of the Accounting Act". In 2006-2008 Member of the Management Board and Secretary General of the European Federation of Accountants and Auditors of Small and Medium - Size Enterprises with its registered office in Brussels (www.efaa.com). Member of the two terms of office (since 2007) of the Consultative Board of the Committee on the Education of Professional Accountants of the International Federation of Accountants (www.ifac.org). From 2008 to 2010 Member of the Board of XBRL Polska Association.
Wiesława Korzeniewska
Vice President of the Board
For many years Chief Accountant and Director of the Board of the Main Office of the Accountants Association in Poland (www.skwp.pl). Member of Supervisory Boards of companies providing accounting services and entities authorized to audit financial statements. She is licensed to keep books of accounts and provide tax advisory services (license number 5888/97). Mentor and professional guide of "Kompetencja" employees.
Tomasz Ostaszewicz
President of the Management Board of Eunite Poland
Graduate of the National School of Public Administration, in the years 2005-2017, a state official, Director and Deputy Director of Departments in the Ministry of Economy dealing with trade policy, international cooperation, assistance to foreign investments and European affairs.
Collaboration
We constantly cooperate with two foreign accounting and auditing offices operating in Great Britain and Italy. We carry out joint educational, training and internal audit and quality control projects with the International Training and Consultancy Centre Ltd.
Apprenticeships and traineeships
We believe that it is worth sharing your experience with people who are at the beginning of their careers. Our programme of several months' apprenticeship allows you to become acquainted with our business and enables you to gain new competences and skills in accounting and auditing.
We create an opportunity to practice in a flexible hourly arrangement, which allows you to combine the practice with other activities or further education.
We do not set strict requirements in terms of experience and education, but prefer people with analytical skills, who already have a basic knowledge of economic and communication knowledge of English or Italian.

If you are interested in practice in "Kompetencja" Sp. z o.o., please contact us by e-mail: biuro@kompetencja.pl with annotation "APPRENTICESHIP".
We are looking for accountants
We encourage the cooperation of accountants, HR and payroll specialists, statutory auditors and tax advisors Knowledge of English, Dutch or Italian will be an important asset for us.
If you are interested in working for "Kompetencja" Sp. z o.o., please contact us by e-mail: biuro@kompetencja.pl with annotation "RECRUITMENT".
In our business we use a number of tools and applications. We successfully work on applications from Symfonia, RAKS, Enova, Navision, SAP, Hyperion Financial Management and other companies indicated by the client.
Our clients' data is secured with a modern backup and backups are stored in several locations to reduce the risk of data loss.